It's 2018, and self-driving cars seem to be right on the horizon. Car manufacturers like VW and Tesla have advanced plans and prototypes for self-driving vehicles, and many other car manufacturers are not too far behind. This impending age of new vehicles will cause a shift in a vast number of industries, one of them being manufacturing. Here are a few ways self-driving cars may impact the manufacturing industry.
Changes in shop floor procedures
New products to manufacture means new procedures in place. Companies dealing with self-driving vehicles and parts for them may need to rework their shop floor or engineering roles. Not to say some procedures won't last, but the configurations of an autonomous-vehicle-equipped facility may be different from the current state of your manufacturing plant. As more changes come and more companies begin to develop new technologies, make sure to stay updated on the changes in the industry. Proactively planning for changes in your manufacturing facility can be the difference between a successful, fruitful transition into manufacturing new products and a total disaster.
Robots on shop floors
It may sound like a sci-fi movie, but robots working alongside humans is bound to be the future. According to the National Association of Manufacturers, automated machines that are already being used in factories will soon see an upgrade. With the new sensor and 3D technologies, these automated machines can learn and complete tasks faster than ever before. New technologies may lead to the most integrated shop floor workforce, full of automated machines alongside humans.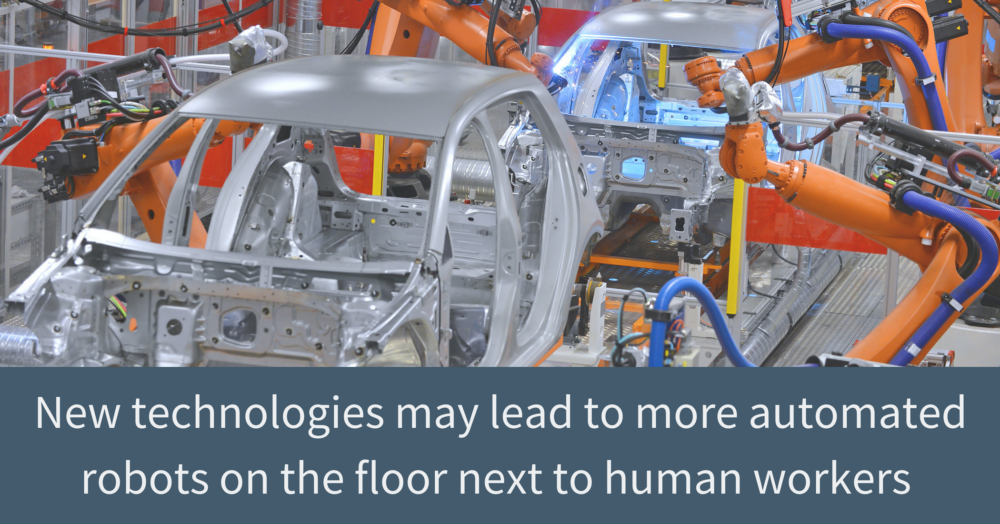 Additional employees
Though robots may be able to assist in the manufacturing of new parts and designs, they are not yet at a point to completely replace human intelligence. If the self-driving car industry is as successful as some predict for the upcoming years, your facility may need to staff more workers. This potential boom in service will help counteract any layoffs or lack of staff issue previously seen.
If self-driving cars explode, as some experts believe they will, your manufacturing floor will indefinitely see some changes if you are in the automotive or related industries. Be sure to update yourself and other managers on new technologies. Paying attention to the trends of your industry will leave you prepared and one step ahead of the competition!
If you are in need of new staff, whether it is to prepare for the self-driving car business or for other reasons, contact an Alliance Industrial Solutions recruiter today to explore various staffing options.